Champion Bloodline Bull mastiff puppies at clawsnpawskennel(9830064171 - Patna
Thursday, 12 April 2012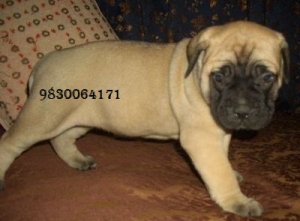 Contacts

Sangeeta Banerjee

9830064171
Item description
Dear Pet lovers are you looking for a show quality, imported and champion bloodline Bull mastiff. Look no further, here's clawsnpawskennel offers you excellent quality puppies from UK, Canada and Australian lineage puppy at an affordable price.
Heavy bone, broad head. Heavy muscle, it has a dark nose with wide nostrils and round, amber eyes. Bullmastiffs have a moderately pronounced stop (point at which the muzzle meets the forehead) and dark The Bullmastiff has a large, wrinkly head and a short, wide, dark muzzle. Though they would do no harm intentionally, Bullmastiffs should be watched around young children due to their immense size. The Bullmastiff can be somewhat dominant toward other Bullmastiffs (males especially do not get along), but is very tolerant towards children and can get along with other household pets provided proper socialization has taken place, preferably when young. Both male and female puppies are available. Puppy is of around 8 weeks.
Primary vaccination and 21days deworming has been completed and these are available with life time breed guarantee. We provide guidelines for better grooming of the puppy. Our prompt delivery service delivers your life time companion at your service within 24-48 hrs. We deliver all over India without any transportation charges. For Images and detail about puppy please call us on 09830064171 or email us at clawsnpawsplanet@gmail.com, clawsnpawskennel@gmail.com. Visit our website www.clawsnpawskennel.com.